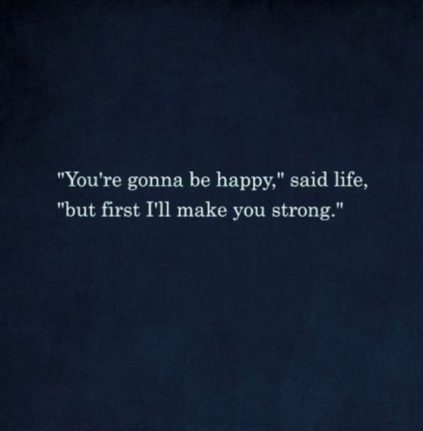 Happy 2018! This year I have decided to take my advice from last year and instead of making a list of resolutions, I am going to apply a general theme to my year and life. This year my theme is STRENGTH.
2017 was an interesting year. I feel like I was pretty good with my presence mantra throughout the year, but I did fall short a bit. Emotionally, 2017 was trying and I will be honest I'm not too sad to see it go. Bring on the bright and shiny new 2018.
Strong isn't necessarily a word I would use do describe myself. I have moments when I help my husband lift something heavy and feel like I can hold my own. Otherwise, when it comes to things like will power, pressure and the fear of disappointing someone, strength isn't my strong suit.
With that being said, I am ready to embrace this whole strength thing because I'm going to need it this year. There are some big things on the horizon. This is the year my son turns double digits (cry face) and at the end of the year will start his last year in elementary school (ugly cry face). We hope to travel some more over the summer. I'm hoping for some new career opportunities as well as growing our current business and last but not least I turn 40 this year (monkey covering his eyes emoji). See what I mean about the needing it part? I'll jump right in with my intentions for strength this year. Since I can't get rid of lists completely, I will at least outline how I want to apply this theme to the important parts of my life.
FAMILY
I want our little foursome (fivesome if you include the pup) to connect this year. We tend to break off in pairs, my husband with my son and me with my daughter and then meet up all four together. I really want to make it a point for both my husband and I to spend one-on-one time with each kiddo and find something we really enjoy doing together to strengthen our little family. I also want my marriage to be stronger than ever and have quite a few ideas for this, one being making sure we hug and kiss in front of the kids more often. I want them to understand how important it is to show affection to the ones you love.
CAREER
This one is very important as well. I am going to work very hard to build our little business. I want this year to be full of new and exciting things. I also want to move forward with some of my own career ideas. That also includes making time for this little blog.
FRIENDSHIPS
I want to make sure I put in great effort to have real purpose in all the relationships in my life. I want the dialogue to be open and meaningful. So many times we get lost in the day-to-day and really don't connect with the friends and people in our life. The only real time with one another is when we are involved with our child's activities. I would like to work on really setting time aside to enjoy my friends and fellow moms. These relationships are such an integral part of this chapter in my life, and I feel they deserve more of my time and attention. I also want to be strong when it comes to sometimes having to say "no". This can be difficult, especially when you are a people-pleaser, and I am horrible at it, but in order for my kids to know how to be strong in their own convictions, they have to see it and I want to be the one to show them.
FITNESS
I am so ready for strength in this portion of my life. During the holiday's and well 2017 in general, I really fell short when it came to exercise and healthy eating. Maybe it was emotional, maybe it was just laziness, either way, I am SO ready to be back in the gym at least 5 days a week. My goal is to be the strongest I've been by my birthday (I have 9 months). I will document some of the journey here, to hold myself accountable. I'm back to meal prepping and gym classes and it feels great.
I'm ready for you 2018 and all the things you have in store for us. Let's hope I've got the muscle to handle it!
xo