I can pretty much say this is the go-to meal at our house. It is perfect for during the week or even for entertaining. I think my family knows that if they come over for dinner on a Saturday night there is a 50/50 chance this will be on the menu (the other option is normally pasta of some sort). They are probably sick of it, but they haven't complained yet.
Chef Jonathan Waxman really knows what he is doing. My husband and I watched him make this on TV once and thought, that looks so delicious, and really not too difficult. Proving again that if you have really good quality ingredients, making food delicious is pretty easy. The key is committing to basting EVERY 8 minutes. I'm not sure why it is 8 and not 10, but who am I to question Obi Wan Kenobi? He knows things, I tell you.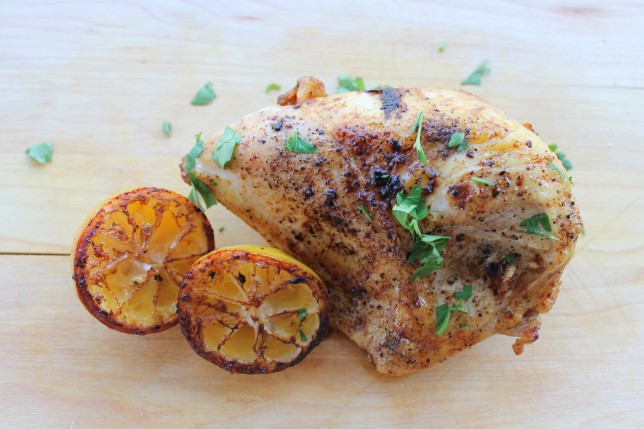 The skin is so delicious you will swear it was seared first. It gets so crispy and since the chicken is cut up into pieces, it cooks really quickly.
We have made tons of variations on this. Sometimes we change the citrus from lemon to orange or lime, add different herbs (rosemary, thyme, etc) once I used Tandoori spice and it was awesome.
You can change this up so many ways and it will come out delicious every time. I promise. If it doesn't, come over to my house any given Saturday night and I will apologize personally by serving you roast chicken.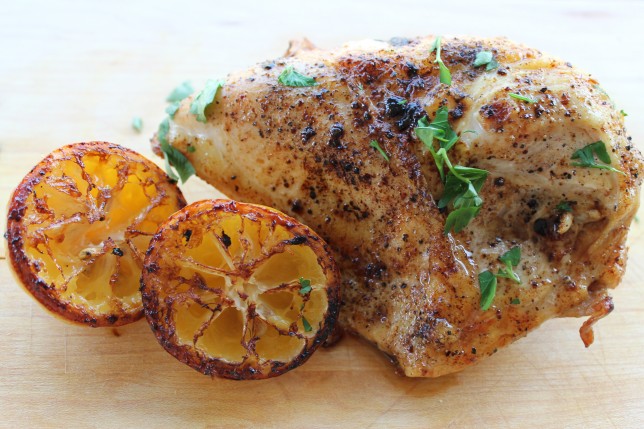 Roast Chicken
2014-05-22 11:14:20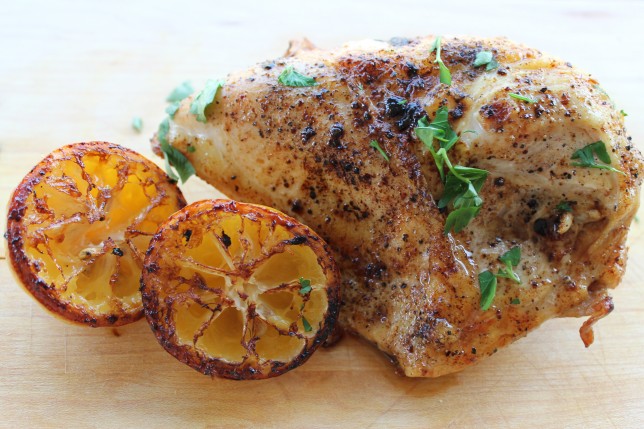 Ingredients
1 whole chicken, cut in pieces
2 tablespoons olive oil
1 lemon, cut in half
Salt and black pepper
Instructions
Preheat oven to 425 degrees.
Rinse the chicken and pat dry.
Pour 1 tablespoon of the oil into a large cast iron skillet.
Rub the other tablespoon of oil onto all the chicken pieces.
Sprinkle both sides of all pieces with a generous amount of salt and pepper.
Cut lemon in half and place cut side down in the pan.
Place chicken in oven and baste every 8 minutes until chicken is fully cooked (165 degrees). This normally takes about 35-40 minutes.
Let sit for 10-15 minutes before serving.
Notes
There are so many variations on this. Make it your own! You can use any seasonings you like and any high-temperature oil. We actually used duck fat once and it was amazing.
Adapted from Jonathan Waxman's Roast Chicken
Steph in Symmetry http://stephinsymmetry.com/