Can we talk salad bars for a moment? I'm normally not a huge fan of buffet-type restaurants. I love to eat but these types of restaurants normally make money on me because I can never go back for more than my initial plate. This is probably because I am intrigued by most everything on a salad bar and will normally try a little of everything. Thus the one and done.
My husband and I used to live in Atlanta for a short time right after we were married. I loved Atlanta. I always say, if Atlanta had a beach I would still live there. There are so many things to do and so many delicious places to eat. I became a forever-fan of Thai food while there and have yet to find anything quite as good here in Orlando. Even if we were just running to grab a bite for lunch it was almost always delicious.
There was a Jason's Deli right across the street from where I worked while we were there. On a lunch break one day I was introduced to the chain. I know what you are thinking, Jason's Deli? Really? Yes, stay with me. My girlfriend and co-worker at the time was with me and suggested I try the salad bar. Boy am I glad she was there. Best.decision.ever. This salad bar had everything you could imagine. The hard-boiled eggs weren't chopped, they were whole (awesome)! But my favorite by far, the reason I would return to this location at least 10 times after this (we only lived in Atlanta for 9 months), was the pasta salad. It was flavorful and went perfectly with the rest of the salad fixins, but the most memorable part is that it was made with spaghetti noodles. Now, I don't know about you, but normally if I were to make pasta salad, I would use small pasta shapes- shells, farfalle or wagon wheels if I could find them, but I never thought to use spaghetti. Well, my friends, it is still to this day my favorite pasta to use for pasta salad.
We have a few Jason's Deli's around here now and I've gone in hoping for salad bar excellence but have been disappointed each time. Don't me wrong, the salad bar is still good, but no spaghetti pasta salad to be found (whole hard-boiled eggs were there though!). Since I can't re-live my Atlanta Jason's Deli experiences, I've decided that making it at home is definitely the best way to go.
I make all kinds of pasta salads these days but this version is one of my favorites. So in time for your 4th of July barbecue or cookout, here is a recipe I like and hope you will too!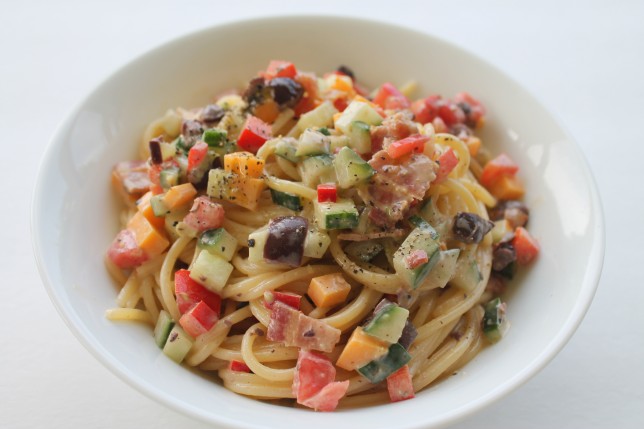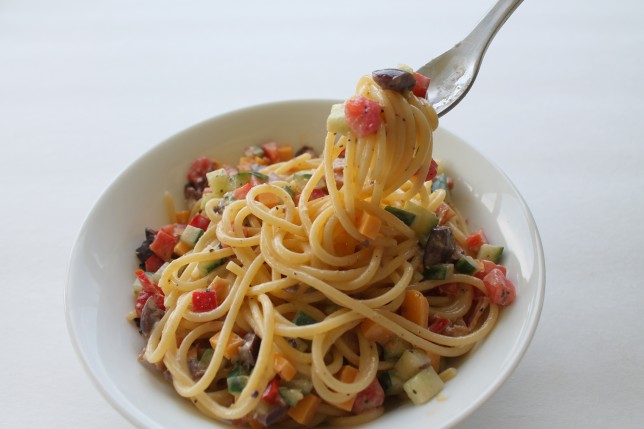 Summer Pasta Salad
2014-07-01 15:35:46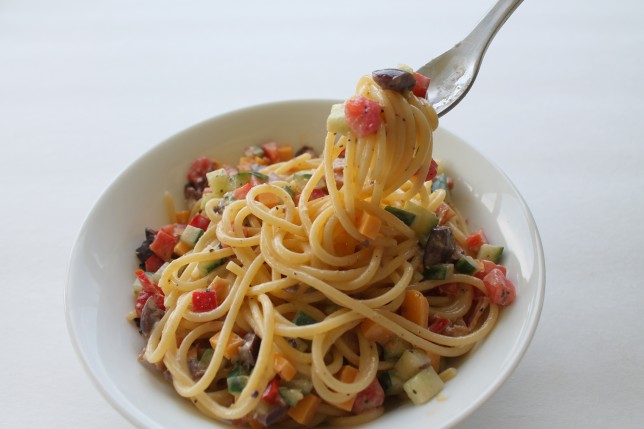 Serves 4
Great for any cookout. This pasta salad uses spaghetti noodles!
Ingredients
1/2 pound spaghetti pasta (I used Gluten Free Barilla because I really like the texture)
1/2 cucumber, diced
1/4 red bell pepper, diced
1 small tomato, diced
2 slices cooked bacon
2 oz cheese (I used Colby but you can use any hard cheese you like)
1/3 cup black olives, chopped
Dressing
1/3 cup mayonnaise
1/2 avocado
1/3 cup extra virgin olive oil
1/4 cup red wine vinegar
1 tsp oregano
Salt and pepper to taste
Instructions
While you are chopping the veggies, cheese and bacon, cook the pasta per the box instructions. Once you drain, rinse with cold water to stop the cooking process.
In a food processor or blender mix all the ingredients for the dressing.
Mix the pasta and the veggies, then pour the dressing over to coat.
Notes
I used Gluten Free pasta for this because I really like the way the texture holds up the next day. It dries out a little bit, but that is how I like my pasta salad. Feel free to use regular semolina pasta, it will be great!!
Steph in Symmetry http://stephinsymmetry.com/