When it comes to breakfast, I tend to find something that works and stick to it. I think I spent a whole year eating overnight oats for breakfast Monday thru Friday. I have definitely been getting in that routine lately with smoothies. I've touted the benefits of throwing everything in the blender and being good to go. Another reason smoothies are good is that I usually eat breakfast while literally running out the door. This works great for convenience, but I must say sometimes I miss "eating" my breakfast during the week. I also noticed, that I tend to stay fuller longer when my breakfast consists of more than liquids.
So here are a few of my recent breakfast change-ups.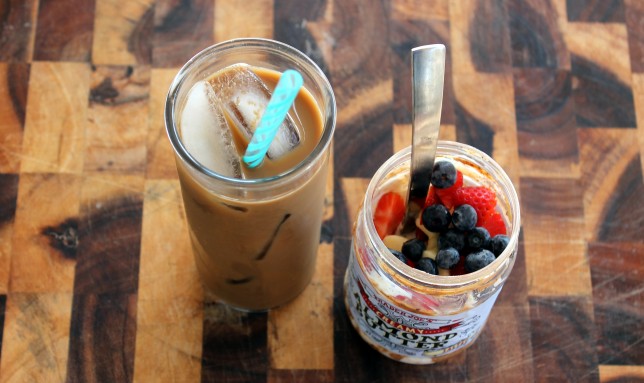 Overnight oats are showing a resurgence. I use the Basic version of this recipe. It is easy because it is just 1/3 cup of everything so I use one measuring cup and good to go. This one was in a Trader Joe's Almond Butter jar. The almond butter was really hard at the bottom (I was having a hard time parting with it becauase we don't have a Trader Joe's here. So it may or may not have gotten extremely hard sitting in the fridge because I knew I wouldn't be able to replace it anytime soon. #foodhoarder) but it did the trick. I added banana, strawberries and blueberries to the top. With iced coffee.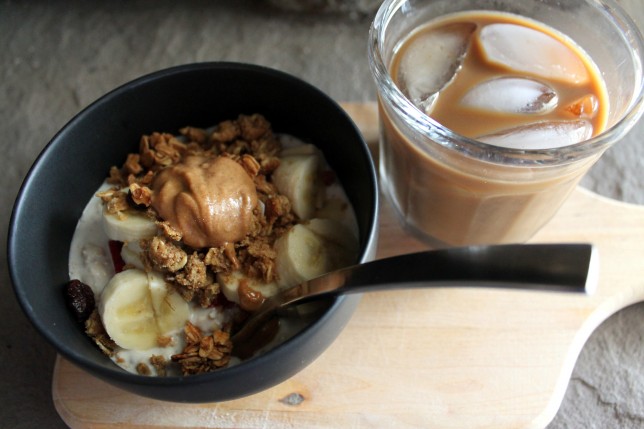 Overnight oats again. This time I topped with blueberries, half a banana, crumbled half of one of the oatmeal cookies I made the day before and almond butter. Again with the iced coffee.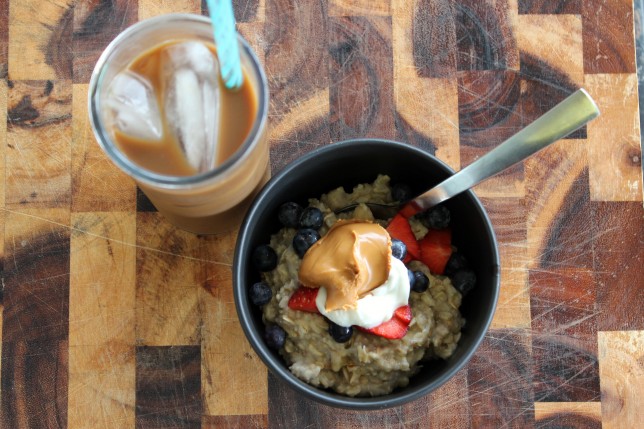 Oatmeal made with almond milk, water and a mushed up banana. Topped with strawberries, blueberries, vanilla greek yogurt and almond butter.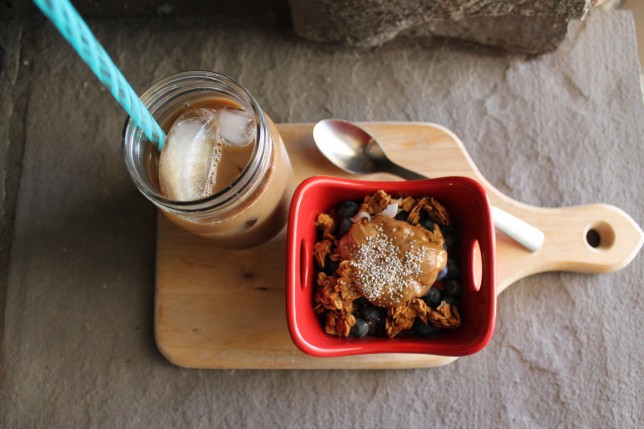 This was just Chobani Vanilla yogurt topped with blueberries, bananas and Love Grown Foods Sweet Cranberry Pecan topped with almond butter and chia seeds. Iced coffee on the side.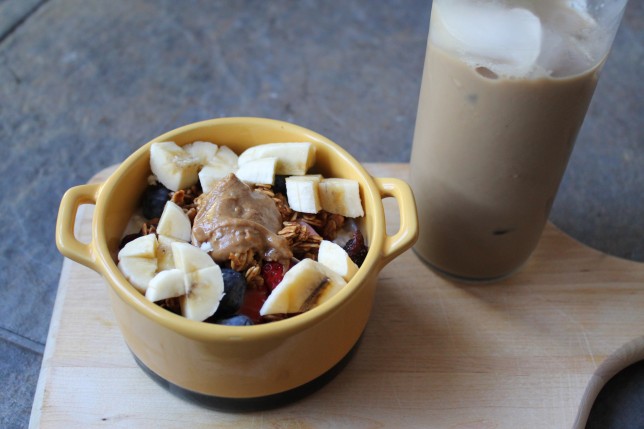 Another overnight oats topped with strawberries, blueberries, half a banana, Love Grown Oats and this peanut butter. I have a slight addiction to this stuff. A Fresh Market JUST opened by us (we are so behind) and they were on special at the grand opening. So good, and I think I'm somewhat obsessed. I'm also late to this bandwagon but the Double Espresso flavor is soooo good! It is definitely a splurge considering I normally make my own iced coffee. But I am hooked.
So I am feeling like these breakfasts have made it a little easier to break out of my smoothie rut. Overnight oats are good too because a little prep the night before makes for a quick breakfast when I'm in a hurry (which is every day). As you can see I'm a fan of sweet breakfasts. If I'm going to consume sugar in the day I like to get it out of the way early-on. My workouts have been a little longer lately also, so I feel like the more substantial breakfasts are really helping.
What are your favorite go-to breakfasts?