I have been going to the gym off and on for years (more off than on). I know my way around pretty well but for some reason I am completely and utterly intimidated by the weight machines. Every day I skip my butt to the Arc trainer and jog/climb/run/walk whatever it is I am actually doing and get my cardio in for the day. I watch the people making their circuit rounds on the machines and it looks pretty effortless really. Unfortunately, when I try to use the machines my absurd social craziness kicks in and I feel like every.one.is.watching. Watching me look at the machine to see which muscles I will be working, and then when I clumsily pull on the handle to adjust the seat (26 times) then finally get ready to go and just know I look like a dufus. I'm sure I am exaggerating but I really want to become more comfortable with the machines. I know the benefits of strength training and have really been trying to incorporate this into my workouts. I have been scouring Pinterest to find good workouts and schedules for each day of the week but keep coming up short. I will keep looking for ideas. My husband said he will walk me through it as apparently he is a exercise equipment master. So I will give it a try again tomorrow and see how it goes. Will give a report on the dufusness.
Breakfast followed my gym escapade. This smoothie had Unsweetened Almond Milk as the base, Chobani strawberry yogurt, almond butter, a frozen banana and a scoop of Designer Whey. So yum. I just really love smoothies. Mainly because I usually have zero time to eat breakfast in the mornings but also because they are so good.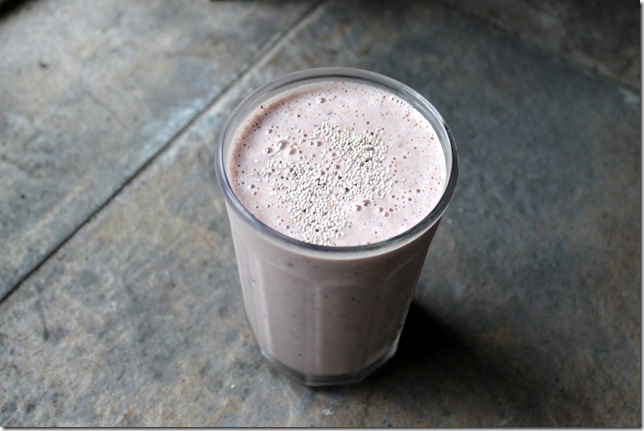 Lunch was inhaled at my desk. Strawberries, cheese stick, deli turkey breast and a tomato and baby carrots dipped in Ken's Blue Cheese Vinaigrette.
I am also getting back into using MyFitnessPal. Love this App. Has a million different food choices. I was a Weight Watchers member for a while and I was always searching for foods and having to calculate when I couldn't find them in the database. MyFitnessPal has SO many things in the database. Love it. I really like getting back to keeping track of what I eat and how much I move.
Hoping to try a turkey chili recipe for dinner tonight. We will see how it goes!