This week we were all over the place. My computer decided to stop working which took two days to fix. I am completely lost without it and needless to say today I am trying to play catch-up to make up for lost time. It is a little scary how dependent we are on technology. Luckily it was an easy (and somewhat inexpensive) fix. Anyhoo, on with the food.
Spring Break was also this week so our meal plan was a little lax. I went with the flow a little bit and I am suffering now because of it. I just hate to make multiple trips to the store during the week. It saves so much time and money to make one big trip for the week and maybe one more small stop (we always need bananas mid-week) as opposed to stopping each night or worse, eating out because there was no plan.
Since I had Little Man with me for Spring Break we ate out lunch almost every day so I tried to lighten-up our dinners. Monday we went to the movies and I ate my weight in popcorn and Raisinets (did you know they have a dark chocolate flavor? I will neither confirm nor deny that the box was empty when we left.). Since I was in a movie-food coma dinner was light. I made a frittata with zucchini, mushrooms, spinach and Parmesan cheese. I also mashed up half of an avocado to put on top of toasted whole wheat mountain bread. Tomato topper and called it a day.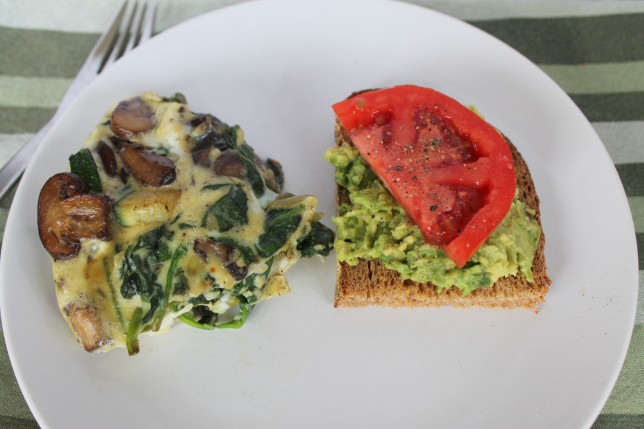 Tuesday I took the kids to Gatorland. They had a blast. On our way home I grabbed some meatballs that were on sale from the grocery store. These were Teriyaki Pineapple flavored so I decided to have Asian-inspired dinner. I sauteed them in a little olive oil to heat through and then added, a small onion, zucchini and bell pepper. I combined some Tamari, honey and rice wine together and added at the last minute. I served this over rice. On the side was an avocado drizzled in a combination of sesame oil and lime juice. I also drizzled a combination of mayo, sriracha and ground ginger over the meatballs. I really enjoyed this. I think next time I will make cauliflower fried rice instead of white rice to amp up the veggies.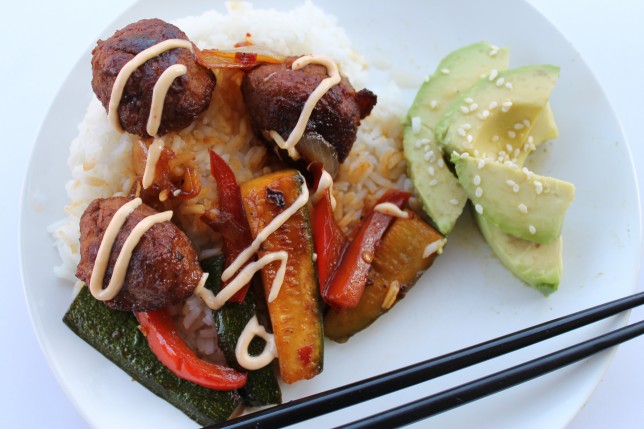 Wednesday I found spinach buy one get one at the grocery (yes if you are keeping track I have been to the grocery store every day this week so far). I use spinach for all sorts of things, salads, smoothies, and sometimes I will just put some at the bottom of whatever bowl I am eating dinner out of to add some nutrients. I had two containers so I decided to try and make pesto with one. I roasted some almonds in the oven and combined them with Parmesan cheese, garlic, the spinach and olive oil. I then added a little of the pesto with some mojo pork I got at the grocery and tossed in some baby bowtie pasta. I loved the spinach pesto, but I think I went a little heavy on the garlic. Oh well, live and learn.
Thursday the boys went to a hockey game so Princess and I ate together. I mixed the leftover mojo pork with some black beans. Topped with lime juice, bell pepper, sour cream and avocado. I also put some spinach at the bottom of my bowl.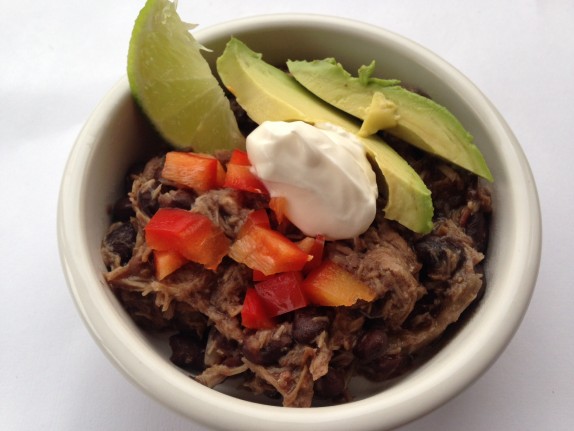 Tonight is date night so we will eat out. Hopefully this will conclude our eating out/Spring Break festivities so we can get back to business-as-usual next week.
Hope everyone has a wonderful weekend.
xo