Some of my favorite family memories involve the Florida Keys. We have been taking trips there annually since I was young. Some of the most important life events have happened in the Keys. My sister and brother-in-law were engaged and later married there, my very best friend was also engaged there. Some of my favorite memories come from time spent in the Keys. The Keys stretch out from just South of Miami to the Southernmost Point in Key West. We tend to spend most of our time in the Upper Keys (Key Largo, Tavernier, Islamorada). We also love Key West and the Lower Keys when we have the opportunity to go further south. It is a whole different world once you cross the Overseas Highway and enter the Keys. Things are more laid back, the water is gorgeous, the fishing is awesome, and most of all the food is amazing. You would expect the seafood to be delicious as the waters surrounding the Keys are filled with sea life and most places do not disappoint.
One of our very favorite places to eat in Key Largo is The Fish House. You must go when you are there as it is one of those places where you will have a great "Keys Experience". The fish is always fresh and local. You can order your fish of choice several different ways, but I always choose the"Matecumbe" preparation. It is a combination of tomatoes, onions capers, lemon and olive oil, poured on top of your fish of choice. It is magical. The menu says "often copied but never duplicated". This is so true, but I still try to capture the flavors myself at home when I can.
While at the coast over the weekend we picked up some fresh Cobia. Cobia is very mild and when it is available we always try to pick some up. Since we had the fish component, I wanted to see if I could try to replicate the flavors of the "Matecumbe" sauce.
The Fish House's version has capers and basil. Both of which I forgot to get while I was at the store. But I did have some green olives and spinach so I substituted that and it was really delicious. It is true though, although this version was pretty good, it is definitely not as good as the original. I guess that means we will just have to make a trip back down there soon.
Here are some of my favorite pictures of us in the Keys.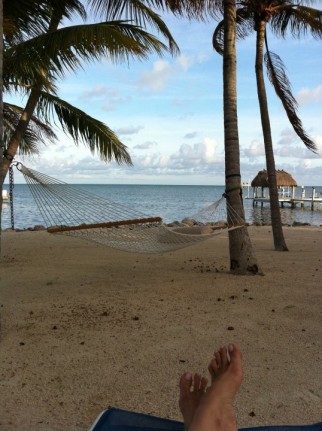 Okay, enough of that here is the recipe.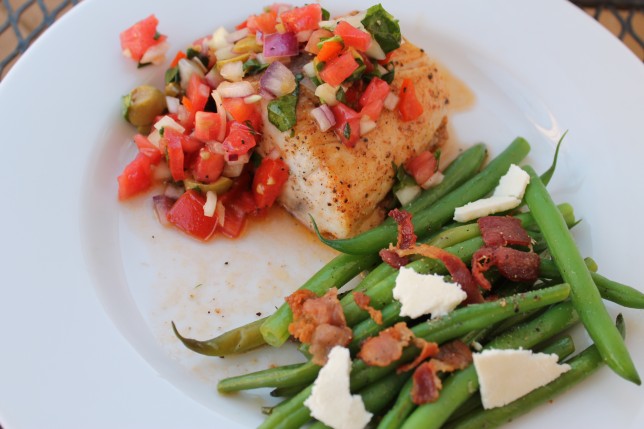 Cobia "Matecumbe"
2014-03-12 13:40:12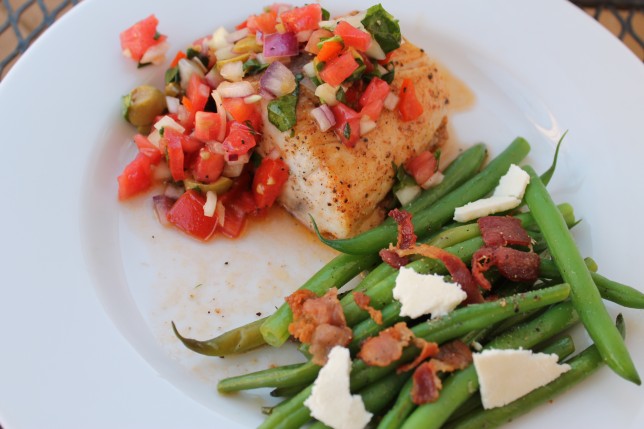 One of our favorite fish dishes from one of our favorite places.
Ingredients
5 tomatoes, diced
1/2 red onion, diced
2 shallots, diced
1/3 cup sliced green olives
1 cup fresh spinach, finely chopped
1/2 cup olive oil
Juice of 1 lemon
Salt and pepper to taste
1 to 2 cobia (or any mild fish) fillets
Instructions
Combine tomato, onion, shallots, green olives, and spinach in a bowl.
Add olive oil, lemon juice, salt and pepper, stir.
Refrigerate for at least 1 hour.
Place oven rack 6 inches from top element.
Preheat broiler to 500 degrees.
Sprinkle each filet with salt and pepper and creole seasoning (I used Tony Chachare's).
Place under the broiler for approximately 4 minutes a side*. *This all depends on the size of the fillets, you will just need to keep an eye on them).
To serve, top each filet with 1/2-1 cup of the topping.
Notes
This topping can be used on just about anything. It is awesome on fish but just as good on chicken, steak, eggs (you get the idea). Enjoy!
Adapted from The Fish House "Fish Matecumbe Recipe"
Steph in Symmetry http://stephinsymmetry.com/