Today was the official last day of school for Little Man. I cannot believe he is done with kindergarten. I have been very emotional today so to take my mind off things I decided to jump on the Summer Bucket List bandwagon.
I keep seeing so many great ideas on Pinterest and all over the internet so I thought we would join in on the fun. Since I will still be working full-time, Little Man will be in camp for most of the summer, and The Princess will continue with daycare, our list will have things that can be done in the afternoons/evenings and on the weekends. I found this great printable.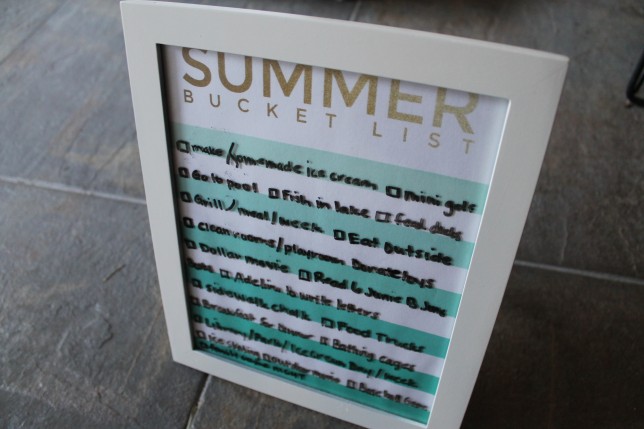 I printed it out as a full-size photo on 8 1/2 x 11 paper and trimmed it a bit on the edges to fit in an 8×10 frame. I just used a dry erase marker right on the glass to write out our boxes and list.
Here are some highlights:
Make homemade ice cream
Go to the pool
Fish in the lake
Family Game Night
Eat outside
Clean rooms/playroom and donate toys
Dollar Movie
Little Man to read 6 Junie B Jones books
The Princess to practice writing her letters
Sidewalk chalk
Food Trucks for dinner
Beach
Breakfast for dinner
Mini golf
Feed ducks
Batting Cages
Ice skating
Outdoor movie or concert
Attend baseball game
Whew. This seems like a lot but I think we can do it! Little Man will be going on quite a few field trips during camp and The Princess has water day every Friday so there will be no shortage of fun things going on. Not to mention our family vacation to the Keys.
I look forward to a busy and exciting summer. Mainly to keep my mind off the fact that my oldest will be in first grade come August. Ugh.
What things are on your Summer Bucket List?
xo