Today started like any other day. Patter of little feet at 6:00 in the morning. A whirlwind of breakfast making, lunch packing, coffee drinking, Dora dressing, Elf on the Shelf conversation, and about 100 other things that fit in the span of one hour before we head out the door for the day. A pretty typical Thursday.
The day did include lunch at a new place. My husband and I have driven by this Greek restaurant several times and finally decided to give it a try. We were the only ones there. We shared a Trio of Dips with Hummus, Feta Dip and Taramosalata (caviar spread). My husband was a fan of the caviar spread. The other two dips were a bit salty for me, but still tasty.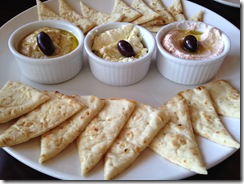 We also ordered the Dolmades and they were by far the best part of the meal. They were warm with lots of meat and rice packed in and the leaves had a really nice minty taste.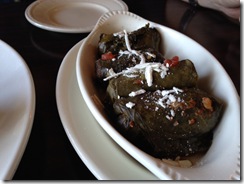 We also shared Greek Salads with gyro meat. I am a huge gyro fan but prefer when the meat is shaved off one of those huge rotisserie cones of lamb. This resembled more of a Steak-Um. Not my favorite. Tomatoes were mushy also, which is a bit of a pet peeve of mine.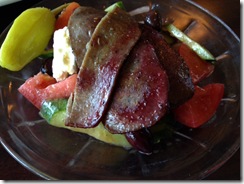 Overall, meh on the place but it was nice to have a grown-up lunch date.
The rest of the day was pretty typical. Work, car lines, more work, putting screaming kids in car seats, trying to check off all the things on my to-do list (I was not successful). I will just be back at it for a Friday and hope to get more things checked off that list!